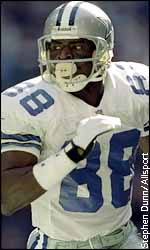 Congratulation to Michael Irvin on his election to the Pro Football Hall of Fame! That puts all of the Triplets in. Like him or not, Irvin had a good career for the Cowboys. As good as he was on the field, he was a bigger influence in the locker room.
Would have been nice if he didn't make such dumb decisions off the field. At least if appears that he is clean now.
Again, it is nice to see another Dallas Cowboy make the Hall of Fame. The Cowboys are still under represented in Canton. Hopefully that continues to change.
I did something strange yesterday. I stayed in and didn't drink. I think what did it was waking up on the couch at 6:30 with a cat on my chest. I couldn't get him to move so I decided to stay in. That and it was like -5 outside.
I will be heading out for the big game though. I still like the Colts to win by at least 10. Beer drinking will begin around 4 so I should be in good condition by game time. Leaving the bar will be rough. It may be -10 by the time the game is over and I stumble out the door. I am just hoping it is a good crowd looking to party. I don't have to work tomorrow so I can take my time.
So instead of working, I will be heading to the dentist. I am somewhat ashamed to admit it but it has been quite some time since I have had someone picking around my teeth. I figured it was something to get done since my insurance pays for it. Thankfully I am not going because a tooth is hurting. Far as I can tell, my teeth are fine...knock on wood.
I do recall having a good time on Friday. I spent 1 buck at the bar. Yep, one dollar. Made some money on shake of the day and gave that to the bartender. Over the course of the night I did try to buy a round but no money was taken. Others got me drinks so I was comfortably numb. Wonder if I can get away with that for the game today?
I also found myself drinking some brandy on Friday. Just because I hadn't drank brandy in such a long time. As I did, I had a little ditty going through my head....
Brandy, you're a fine booze
What a good drink you will make
Yeah, I got problems. Enjoy the game.